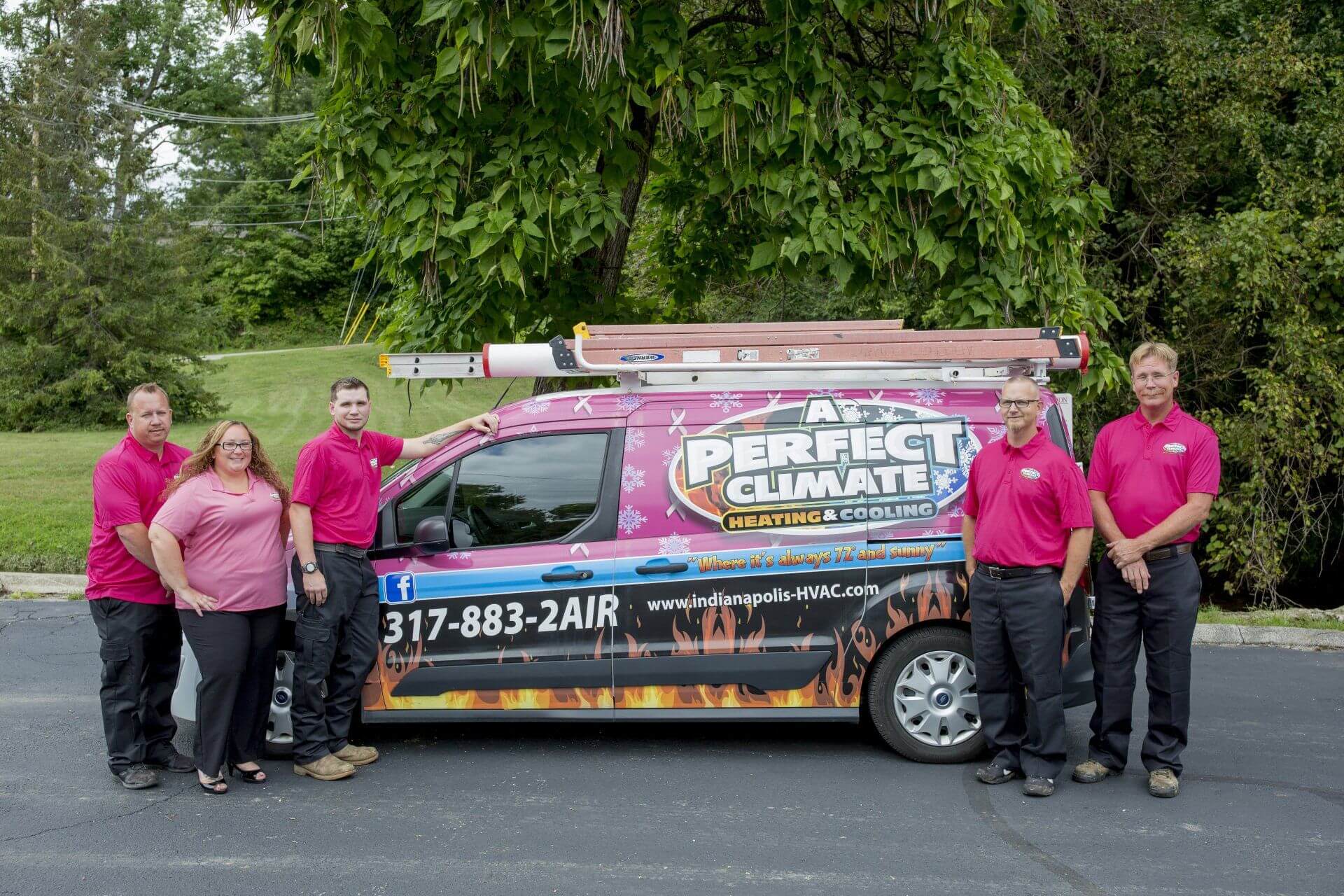 Heating Services in Indianapolis, IN
Here at A Perfect Climate, our seasoned professionals are always ready to meet your heating and cooling needs, whatever the circumstances. Our heating services cover all of the bases: from regular maintenance to unit repair and complete new system installation.
And, above all, we take pride in ensuring total customer satisfaction. This means completing jobs in a professional, timely manner and making sure everything is better than before.
Heating Repair in Indianapolis
Unfortunately, there are times when our heaters malfunction, especially as they get older. Our team can help when you need furnace repair or heat pump repair service. The professional technicians at A Perfect Climate dedicate themselves to preserving your heating system by repairing common issues to prevent the need for emergency services. We'll replace any failing components and bring your struggling heating system back to prime condition.
Our repair service effectively increases the lifespan of your heating equipment, all while ensuring your family stays comfortable during the cold months. By letting us tend to your unit, you remove the need for emergency furnace repair and save yourself some money in the process.
Whatever the issue is that's causing your HVAC system grief, our HVAC technicians can handle it without a problem. Additionally, to give you peace of mind, we offer a free estimate on repairs. You'll receive our pricing upfront, so you know exactly how our heating services will work with your budget. We'll never perform any repair without your greenlight.
We happily extend our knowledge and service to residential and commercial customers in Indianapolis and the surrounding areas.
Heating Installation in Indianapolis
When it comes to installing heating systems, you should only trust reputable professionals. You need a team that knows heat pump, boiler, and furnace systems inside and out. You want qualified technicians who have state-of-the-art tools and high-level skills.
At A Perfect Climate, we offer new-home installation service and total replacement on old heating systems. Since transparency is a core company value, we'll give you our full quote from the get-go. We'll also do our best to work within your budget because we understand people can't go without heat – especially in our Indianapolis winters!
With us, you can rest assured, knowing we take all of the necessary steps and precautions to guarantee the installation of your HVAC equipment is done right. We'll help you learn the difference between a gas furnace, electric furnace, and heat pump to ensure that your new heating system caters to your every need. And we'll make sure your area is as clean as when we got there. We always clean up after ourselves because we respect our Indianapolis area homeowners and their space.
All of our Indianapolis heating services are handled by an experienced, knowledgeable service technician. At A Perfect Climate, we share a belief that our clients should never settle for anything but the very best, so we're sure to deliver professional service every time.
Heating Maintenance in Indianapolis
Heating systems put in a lot of work, especially when winter rolls around. Because of their regular performance, heating systems also require regular maintenance to stay in working order.
With the colder months rapidly approaching, it's even more critical to ensure that your heating unit is reliable and able to perform at optimal standards. Our heating services include the necessary maintenance that guarantees your furnace or heat pumps' efficiency and longevity.
Neglecting your heating service could lead to inefficient performance, high utility bills, and costly repairs. But a tune-up before the cold sets in will save you time, money, and warmth. Our technicians can spot potential problems and stop them in their tracks. We'll tighten and clean the internal components to help system performance. A maintenance service can also catch smaller issues before they lead to bigger, more expensive repairs, keeps your heating system efficient, and prolongs its lifetime. A small amount of care now will save you far more in the future.
During our maintenance visits, our technicians will never act without your say-so. We'll also never trick you into paying for an unnecessary heating repair service. If we suggest further work, it's only because it's vital. Our top priority is your comfort and safety. You can rely on our team to assist with furnaces, heat pumps, boilers, and more!
Contact Us for Heating Services
Here at A Perfect Climate, we acknowledge that your comfort and safety are of the utmost importance. This is why our technicians have only the best qualifications in the business. Whether it's a necessary heating repair service, unit installation or replacement, or routine maintenance, A Perfect Climate is equipped to handle it.
If you require heating services in Indianapolis or the surrounding Central Indiana area, our dedicated staff is standing by to help. Contact us online or give us a call today to schedule your service!