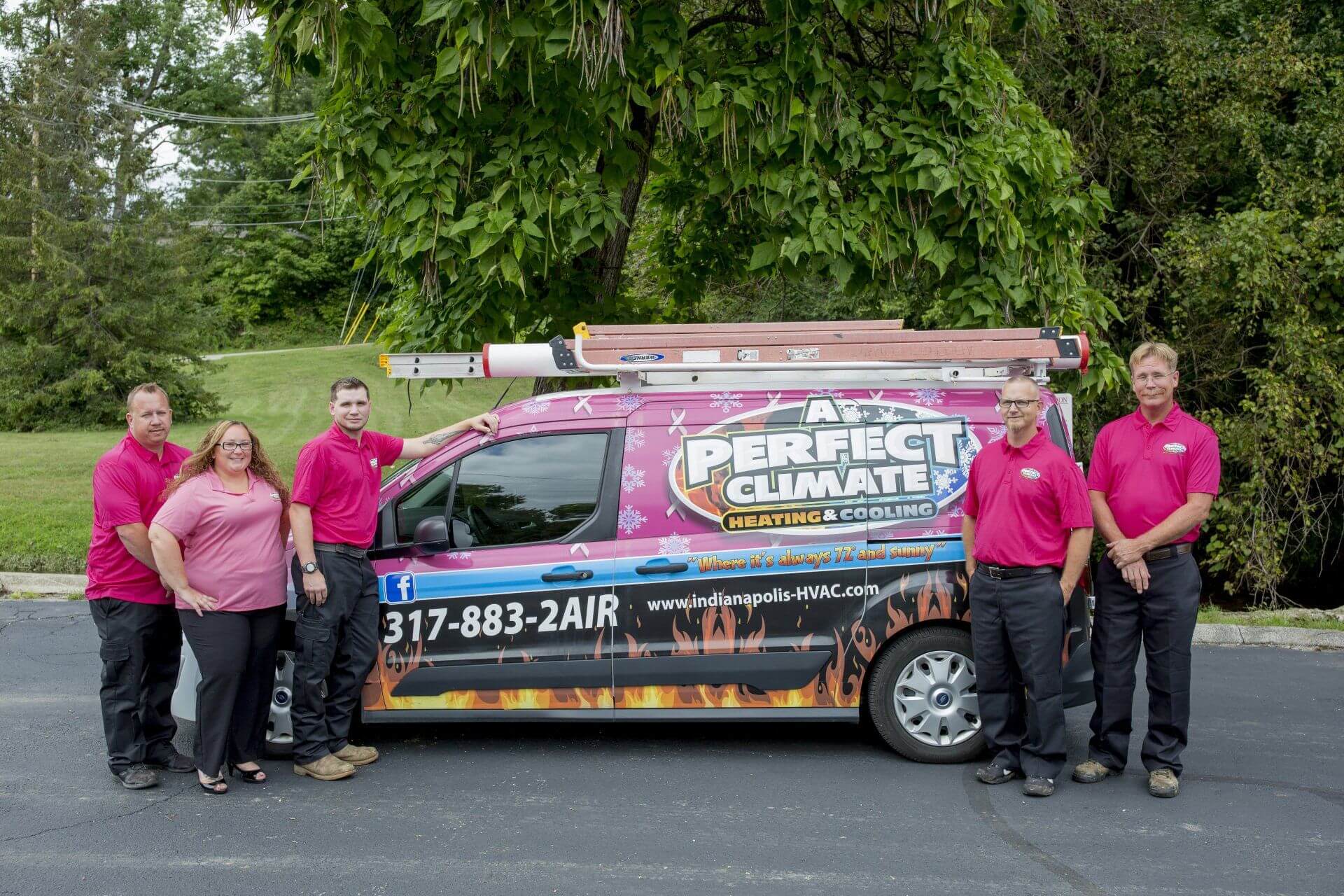 Air Conditioning Services in Indianapolis
When the heat in Indiana is brutal during the hot summer months, a functioning AC unit is more of a necessity than a luxury. That's why it's crucial that you have access to a dependable air conditioning service provider you can trust to repair your air conditioning system in the event of an unexpected problem.
Luckily for you, A Perfect Climate Heating & Cooling is here to help. Our team of expert heating and cooling technicians understands better than anyone how important it is to have reliable air conditioning systems here in Indianapolis, Indiana. Get in touch with us for the fastest and most efficient air conditioning services in Indianapolis and the surrounding Central Indiana area.
AC Repair in Indianapolis
When you are in need of air conditioning repair, you can rely on A Perfect Climate Heating & Cooling to rectify the issue promptly. We've been providing HVAC services to the Indianapolis area for years, so our technicians have truly seen it all when it comes to AC repair.
There isn't any air conditioning problem that our highly experienced experts can't confidently fix during a service appointment. So no matter what kind of AC system issue you're experiencing, you can trust our team to solve it without a hitch.
Our HVAC experts have more than just decades of experience under their belts. They have also undergone extensive industry training and have the licenses and certifications to prove it. With these qualifications, you always know that you're in good hands when A Perfect Climate Heating & Cooling provides air conditioning services at your home in Indianapolis.
AC Installation in Indianapolis
Don't have an HVAC system installed in your new Indianapolis home yet? No problem! Our team at A Perfect Climate Heating & Cooling can also provide air conditioning installation services for recently built homes all over the city of Indianapolis. With our help, you won't have to worry about repair needs in your brand new home for many years.
If your old air conditioner is losing its battle against time and cannot be fixed through traditional repairs, our technicians are available to remove the old system and install a brand new cooling system designed to work for years to come.
You and your family should never have to go without a working air conditioner during the hot Indiana summers. So if your old unit needs frequent repairs and still isn't providing the comfort you need, don't hesitate to call us for a replacement.
And don't forget about keeping comfortable during the freezing cold winters! We are also available for heating system installation service whenever you need it.
Air Conditioner Maintenance in Indianapolis
It's important not to neglect regular air conditioning unit maintenance to keep your system in the best shape possible. Without proper attention and ongoing care, your cooling system is more likely to develop a serious problem over time that will require more intensive repair work to rectify.
Scheduling regular maintenance appointments for inspections and tune-ups will keep larger issues from happening when you need your air conditioning systems and save you quite a bit of money in the long run. You wouldn't want to be caught in the sweltering heat with an unexpected cooling unit malfunction that could've been easily prevented by being more proactive.
These check-ins should ideally take place at least once a year, and it's best to schedule an inspection and maintenance service before the summer temperatures rise. We make air conditioner maintenance service simple and fast; we'll check on your unit, advise you on any repairs needed, and let you get back to your routine.
We'll only recommend the air conditioning services you absolutely need, keeping your budget and affordability in mind.
Contact Us for Air Conditioning Services
Now that you know the importance of always having a functioning cooling system during the harsh Indianapolis summers, you should rest assured that you'll never have to live without reliable air conditioning service again. A Perfect Climate Heating & Cooling is always here to see to any of your HVAC system needs.
When you're ready to have a technician come out to assist with your AC system, contact us by phone or via our website. We're ready to schedule service and provide you with a free estimate.