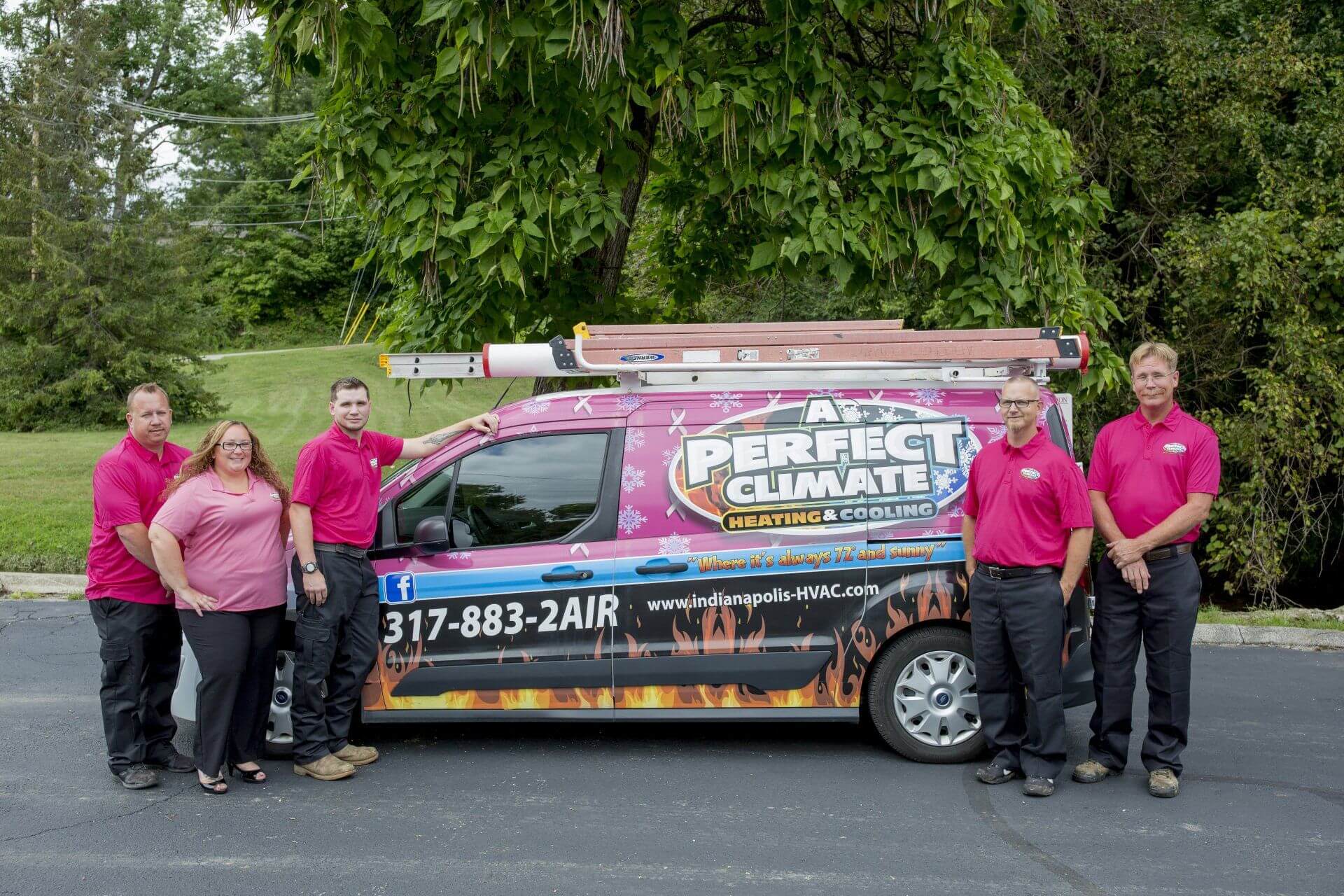 Indianapolis, IN Heat Pump Repair
Heat pumps are growing in popularity among Indianapolis homeowners – and for good reason. They're extremely energy efficient and provide both heating and cooling for year-round comfort. But since we use the units all year long, so much usage leaves them prone to damage that requires expensive repairs, especially if they haven't received regular service.
If your heat pump is giving you a hard time, it most likely means it requires repairs, and you should contact a reputable HVAC company such as A Perfect Climate! We're highly trained service professionals who have proudly served Indianapolis and the surrounding areas for decades. We will help you tackle any heat pump issues you encounter.
Read on for more information about our services and signs you may need to give us a call.
Signs That Your Heat Pump Needs Repairs
The last thing you want is your heat pump to break down at the worst time. Thankfully, there are sure signs when something is wrong with your unit. If you know what to look for, you can prevent a complete system breakdown well before it occurs.
If you notice any of the following signs, call us for heat pump repair service in Indianapolis right away.
Inconsistent Heating and Cooling
If you see a spike in your monthly bills, call your local service professionals. Higher bills mean that your HVAC system isn't running as efficiently as it once did. In this case, a part may be broken and require replacing.
With one part malfunctioning, stress gets added to the rest of the equipment and makes a breakdown even more likely. If the unit is under 10 years old and the repair is relatively minor, the cost of repairing may be more cost effective than installing a new heat pump system. However, if your HVAC equipment is older or has received poor maintenance, a new system could save you money. One of our service professionals can talk you through options for replacement services.
Loud Noises Coming from the System
Hearing sounds that you don't typically hear from your heat pump unit is a strong indicator something is wrong. It could be anything from a piece of debris stuck inside or a broken part. Either way, if you hear something abnormal, contact our experienced technicians for an inspection.
The System Produces Strange Smells
Strange smells in your home are always unsettling. But if you identify odd odors coming out of your vents, you should have your heat pump inspected immediately. Without making the appropriate repair, a future breakdown is more likely.
Poor Indoor Air Quality
One primary responsibility of your heat pump is to keep your home's air quality in good condition. Declining air quality in your home can cause poor health and allergies. If you notice that the air is dusty, smoky, or unclean, then there is an issue with your system. Reach out to us so that we can determine if you are in need of a heat pump service.
How to Avoid Future Heat Pump Repairs
Regular maintenance is critical for all heat pump systems. Preventing repairs means having your HVAC systems evaluated regularly. We recommend regular servicing at least twice a year, once in the spring and the fall. A professional can identify and resolve potential problems before repairs are necessary, saving you time, energy and money.
Why Choose A Perfect Climate?
A Perfect Climate is the most qualified heat pump repair and maintenance service company in Indianapolis. We care for our community and ensure your home's heating and cooling system keeps you comfortable all year long. Our years of experience and team of highly qualified and certified technicians enable us to give you the best service possible!
At A Perfect Climate, we provide upfront disclosure of all costs and fees before performing a heating or air conditioning job. To save on your next heat pump repair service, visit our coupons page for latest deals and discounts. With us, you know you're getting a job done right by honest, skilled individuals.
Contact for Heat Pump Repairs
If you need any work performed on your heating and cooling systems, we're standing by. We have the most qualified technicians and years of experience behind us. Not having a working source of heat jeopardizes your comfort and safety.
As a family owned business, we treat our customers as members of our family. We offer special financing options because we believe that you should be able to be comfortable in your home without having to drain your bank account. Our team will be happy to help you out with any heating and air conditioning solutions, so schedule heat pump services with A Perfect Climate today!