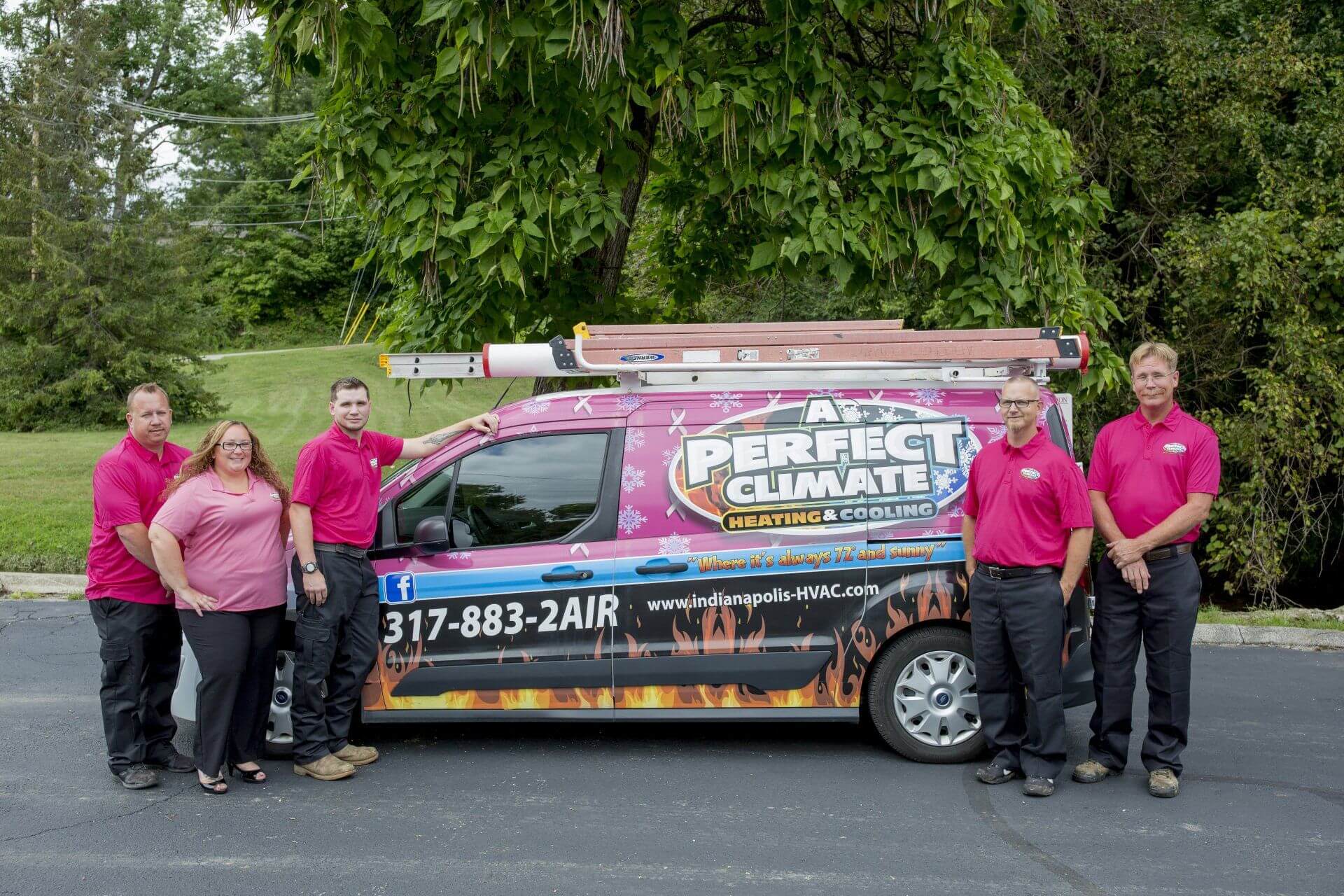 Indianapolis, IN Heat Pump Installation
Whether you've just built a new home or your existing heat pump system needs to be replaced, A Perfect Climate Heating & Cooling can help.
We'll work with you to meet your needs and are able to install a new heat pump, if necessary. Our team takes pride in providing the highest quality heat pump services in Indianapolis.
Signs That You Need Heat Pump Replacement
Even the most sophisticated systems can face issues from time to time. They can freeze up, fail to produce adequate heating or cooling, trip circuit breakers and more. There are signs you can look for that indicate you may need to call for heat pump installation service, including:
The System Short Cycles
If your current system randomly turns itself off or has difficulty getting started, it could mean that your heat pump is short cycling. This means it's turning off and on faster than it should, putting extra strain on your heat pump. All the stress leads to rapid deterioration of the system and higher energy bills.
Loud Noises Coming from the System
Heat pump systems that make wheezing, clanking, or banging sounds should be inspected immediately. This could indicate anything from a piece of debris stuck inside to a problem with the indoor coil of the unit. In nearly all cases, foreign sounds trace to components that are wearing down or lacking proper care. To prevent expensive repairs as much as possible, be sure to keep up with heat pump maintenance!
The System is Getting Too Old
The average life expectancy of a quality heat pump is about 15 years. Even though it appears to work in its old age, it's only a matter of time until it needs constant repairs or stops working entirely. If your energy bills are significantly higher than what they were during past seasons, your system is likely older and in need of replacement. A new heat pump system can conserve energy and provide sufficient heating and cooling in your home.
The Unit Can't Reach The Set Temperature
Heat pumps that cannot reach their set temperature or produce cold air on a high setting, may need to be replaced. If you have already changed the filter and had your system recently serviced, it is clear you need a replacement.
A Sudden Drop in Indoor Air Quality
If your indoor air quality begins to deteriorate, it could mean your heat pump needs replacing. To protect your family members, consider upgrading to a new heat pump.
Financing Information for New Heat Pumps
Here at A Perfect Climate, we have a variety of financing options available for our customers. Our unique financing program helps homeowners during times of need. It allows anyone to have access to affordable HVAC services, whatever their budget may be.
We understand that buying a new heat pump can be costly. We also know that not every household has a budget big enough for the considerable cost of a new AC unit or heat pump. This is why we have teamed up with Fargo Wells to offer our customers special financing when a heat pump replacement is the only option.
We also offer a free quote to customers, as we understand how stressful needing a new HVAC system can be. Here at A Perfect Climate, we believe every household should have access to a fully functioning HVAC system.
Why Choose A Perfect Climate?
If you're a homeowner in the Indianapolis area, A Perfect Climate is the company you can trust for HVAC services. We operate as a family owned company, so we treat our customers with the same respect as our family members. We have the knowledge, expertise, and background to complete any job – no matter the scale.
We love helping our community out, which is why we offer service to residential and commercial customers. Plus, our installations and repairs are available to all models of HVAC equipment and appliances. Whatever the project, we can perform it to the highest possible industry standard. We're available for various services, including:
Our team at APC takes great pride in customer service and ensures that we disclose all costs and fees upfront before the job is complete. This genuine and honest way of working has seen hundreds of Indianapolis residents return to our company time and time again.
Contact Us for Heat Pump Installation
Contact us today to schedule heat pump installation in Indianapolis and the surrounding areas of Central Indiana. One of our expert technicians is standing by to answer any questions you may have about heat pumps and traditional heating and air conditioning systems.