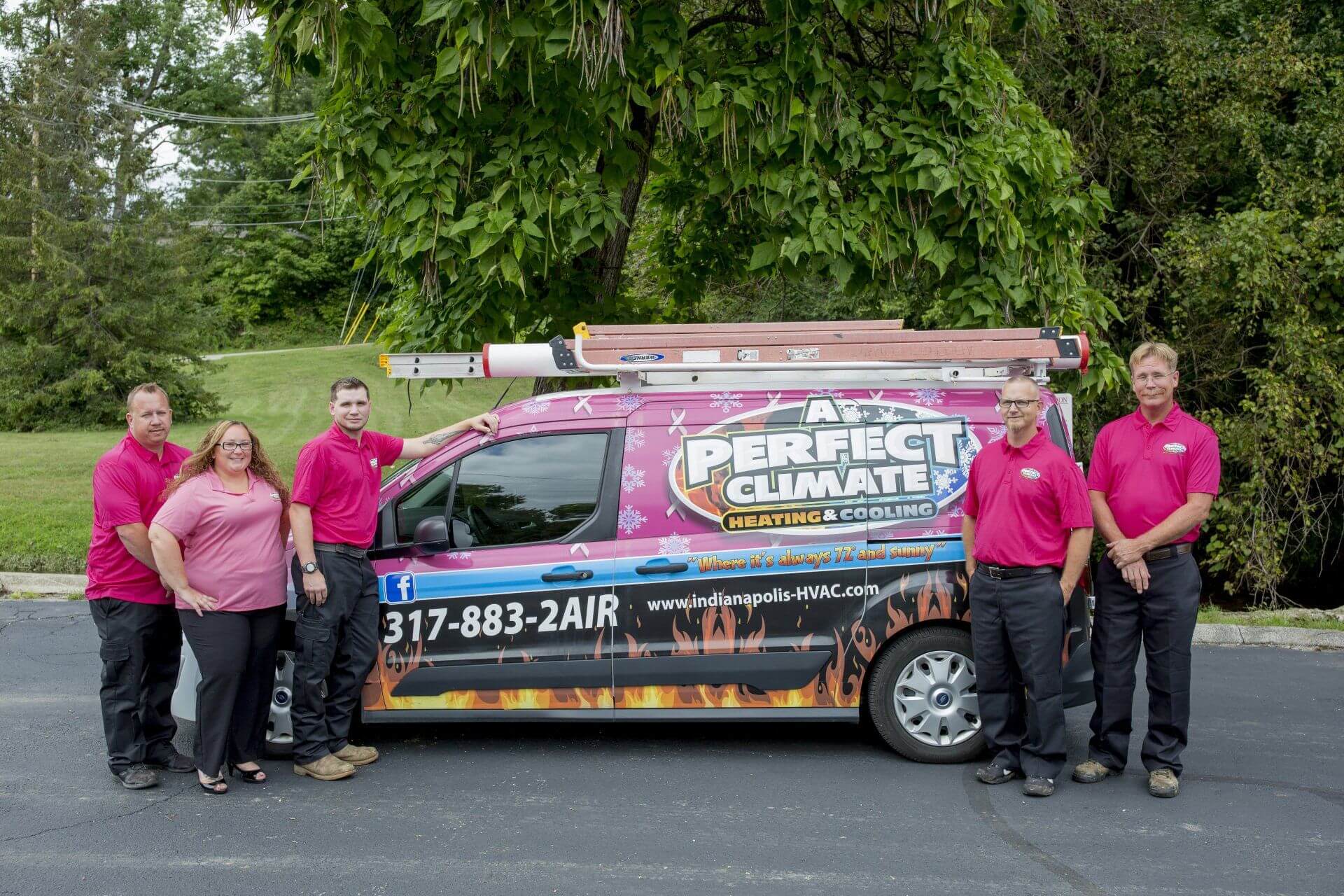 Indianapolis, IN Furnace Installation
Winter is fast approaching, and with it comes the cold. Not having a working furnace jeopardizes your comfort, and, in extreme temperatures, can put your family in danger. If your furnace is on its last legs, A Perfect Climate Heating & Cooling is here to provide reliable and accurate furnace installation services so you can enjoy the pleasures of winter all season long.
Signs That You Should Replace Your Furnace
While repairing your furnace is sometimes an option, there are also times when it is best to replace it instead. Today, the highest quality furnace systems operate with a 98% efficiency, whereas 10 years ago, they performed at 78%. The development in furnace technology allows homeowners everywhere to see significant savings on their energy costs. Here are a few things to consider when deciding if repairing or replacing is the best option.
The System is 10-15 Years Old
When was the last time you had your furnace replaced? The average life expectancy of a properly maintained electric furnace or gas furnace is around 15 years. If your heating system is more than 10 years old, it may be time to upgrade to a new, energy-efficient furnace. After the 10-year mark, furnaces tend to need frequent repairs. In the end, total furnace replacement is way more cost-effective than constant service calls. In addition, a new furnace can help you save more on utility bills due to higher energy efficiency.
A Carbon Monoxide Leak is Present
A carbon monoxide leak can become dangerous very quickly. An immediate furnace replacement is necessary to avoid hazardous health consequences for you and your household. Key signs that you have a carbon monoxide leak include:
Heavy condensation on your windows
Sooty or brownish-yellow stains near the furnace
An odd-colored furnace flame
Repairs Cost More Than a Replacement
Ask for a quote on repairs and for furnace installation service. This knowledge will help you determine the most cost-effective solution to your issue. If the costs are similar, it is better to opt for a total furnace replacement. With a brand-new furnace, you won't have to worry about additional heating problems cropping up for quite some time.
The System Needs Constant Repairs
Is your heating system always in need of repair? This is a sign you need a new furnace. Repairs may appear cheaper if they're one-off events, but it's easy to forget they'll add up over time. Before you know it, you'll realize your heating repair cost is already equal to or above the price of a new unit.
If you're constantly fixing it now, it's time to get the unit replaced. When it's cold, you don't want to worry about whether you'll have heat or not. Inefficient heaters tend to use up a lot of energy to produce enough heat to warm your home, increasing your energy bills along the way.
Your Furnace Won't Turn On
This issue could be a problem with the furnace itself, or it could be an issue with the thermostat. Strange sounds, short cycling, and decreased heating output could be warning signs of operating problems. If you are not sure whether to have your heating system replaced or repaired, get a professional inspection to see what's best for you. Call A Perfect Climate Heating & Cooling for your wintertime home heating solutions.
Financing Information for Furnace Installation
Not sure if you have the funds to replace your system? Don't worry! Here at A Perfect Climate Heating & Cooling, we offer special financing options to make sure you can install a new system as soon as possible, without worrying about your checking account.
We have partnered with Wells Fargo to allow you to finance your new furnace and pay for it as you can. This includes an easy-to-use online account with monthly payments that are easy to fit into your budget.
Financing Information for Furnace Installation
So, why choose us for your furnace replacement services? We will show you all of your options for installing a new furnace, from the right size furnace to the features that increase its energy efficiency and comfort. Additionally, we are able to work on both gas furnaces and electric furnaces, so no matter the system, we have you covered. We are also family owned and operated, so you can rest assured that we will treat you like family, the way you deserve.
Also, we're experts in all things heating and cooling. We offer many services, including:
Lastly, when you ask for a quote, we make sure to fully disclose all costs and fees up front, like the furnace installation cost, before the job is complete. This way, you won't have to worry about any unexpected heating and cooling costs after the work is done. Don't make the mistake of ignoring your furnace's problems, and take advantage of our maintenance program that can prevent your furnace system from running at peak efficiency.
Contact A Perfect Climate Heating & Cooling for Furnace Installation Services
If you're having trouble with your furnace system, contact A Perfect Climate Heating & Cooling to schedule an inspection! We'll let you know all of your options. You can schedule furnace installation service online through our website and ask for a free quote, or call us if you have any questions. Contact A Perfect Climate Heating & Cooling for all your HVAC needs.