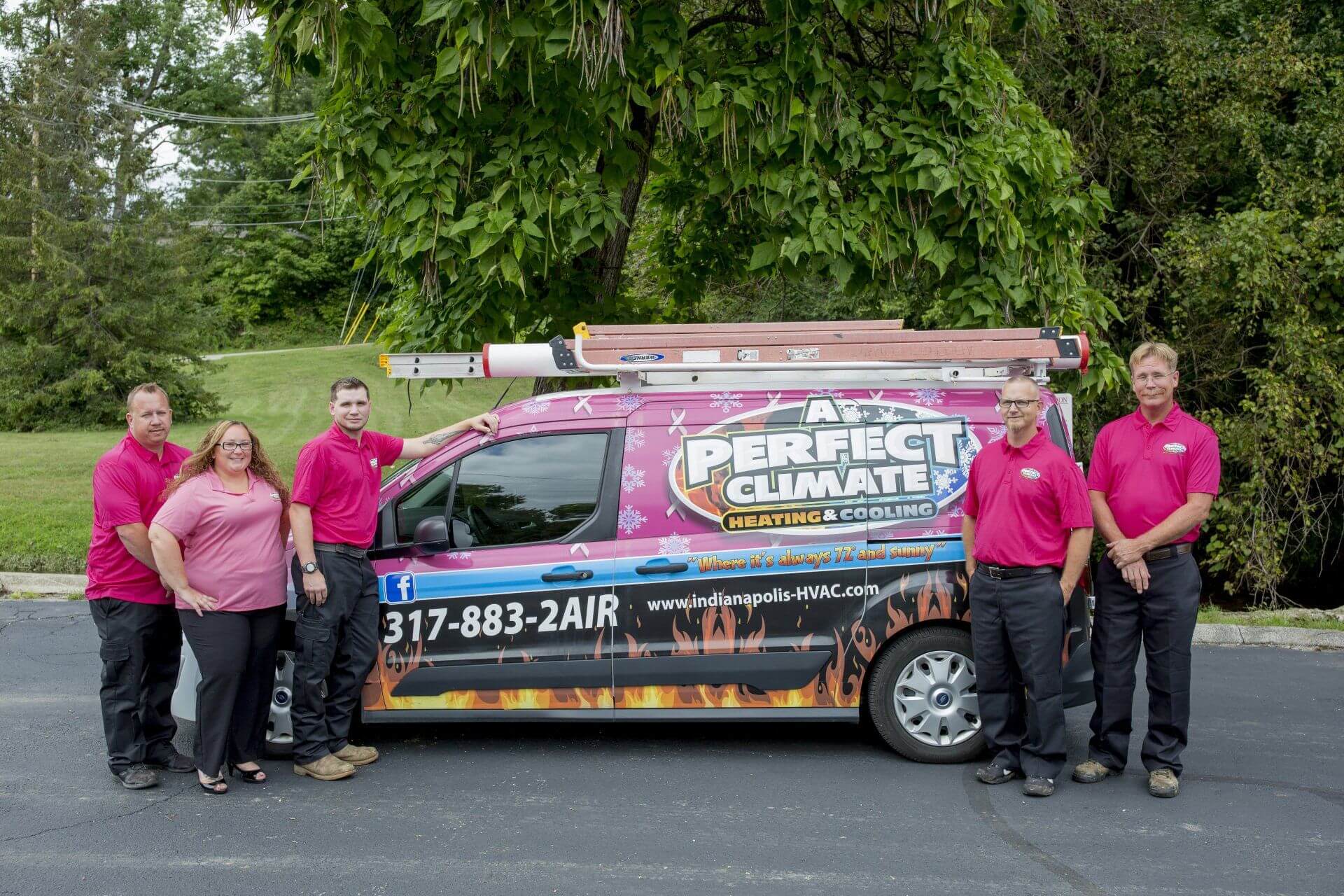 Commercial HVAC Services
Here at A Perfect Climate Heating & Cooling, we provide a variety of commercial heating and cooling services. We aim to meet the needs of all our customers – no matter the job. As a family owned and family run business, we have years of experience in the HVAC industry and provide exemplary service to local businesses in Indianapolis and the surrounding areas.
Commercial Heating Services in Indianapolis
Here are some of the commercial heating services we offer:
Commercial Heating Repair Services
Our team of skilled technicians will assess your heating problems thoroughly and provide a detailed estimate on the cost and timeline for repair. We know companies require the best heating possible to ensure the comfort of their staff and customers, so we work fast and efficiently – even when quoting a repair service.
Commercial Heating Installation Service
Commercial heating systems typically have a lifespan of about 15 years. If you're aware that your furnace is approaching the end of the road, it's time to call A Perfect Climate Heating & Cooling for commercial HVAC services. Here at APC, we provide installation services that will leave you with a long-lasting, energy-efficient heating system.
Commercial Heating Maintenance Service
Your furnace should be serviced at least once a year to maintain efficiency and keep energy bills low. However, to guarantee the best system performance, we recommend servicing twice a year, once in the spring and another in the fall.
Here at APC, our professional heating maintenance consists of:
Cleaning the components that typically require the most repairs, including the pilot light, fan, and heat exchanger.
Inspecting the air intake grilles and vent system and removing any blockages.
Checking the heat exchanger for potential corrosion or damage.
Commercial AC Service in Indianapolis
Learn about the expert cooling system services we offer below:
Commercial AC Repair Service
Our commercial HVAC services include AC repairs. If you're an Indianapolis-based company experiencing faults with your current HVAC unit, our team of trained technicians is standing by. We'll locate the root of the problem quickly and provide the proper repair service. Our affordable prices allow us to give you an estimate that works with your budget.
Commercial AC Installation Service
Commercial cooling systems typically have a lifespan of 10 to 15 years. Those that have undergone routine maintenance can last even longer.
If you have had your cooling unit for many years, you may spot signs of deterioration. This means it's time to give us a call. Our team of highly skilled experts will install a new unit and ensure it'll work efficiently for years to come.
Commercial AC Maintenance Service
An easy way to save money is to keep your heating and cooling system well maintained. AC maintenance checks should ideally be performed once a year. However, if your commercial unit is older, a bi-annual tune-up is recommended. Here at APC, our commercial HVAC maintenance service includes:
Inspection of ductwork for energy efficiency.
Calibration of your thermostat to ensure proper operation.
Inspection and tightening of all electrical connections to ensure safe system operation.
Checking the condition of the fan belt.
Cleaning and inspecting moving parts.
Why Choose A Perfect Climate Heating & Cooling?
If you're a commercial customer in Indianapolis, A Perfect Climate Heating & Cooling should be your go-to company. Our family owned business has years of experience servicing businesses in this area. We make sure that all of our clients are completely happy with our commercial HVAC services. The professionalism and expertise of our highly trained technicians guarantees customers return again and again for all their heating and cooling systems needs.
We ensure all our HVAC systems, products, and services are of the highest quality: from installations, repairs, and maintenance. We also provide service for any commercial HVAC system.
We disclose all costs and fees upfront before the job is complete, and we communicate with clients to ensure they are happy. Here at A Perfect Climate Heating & Cooling, we believe that all our commercial customers deserve quality HVAC services. Believe us when we say our standards never falter – we deliver every time.
Contact Us for Commercial HVAC Services
Whether you require a few minor repairs or a full-blown installation, we are here to help with whatever commercial HVAC service you need. Contact us to schedule a tune-up, repair service or installation for your commercial HVAC system.